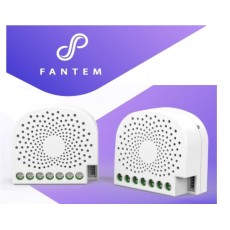 Soon to be released mid April is the FANTEM range of Z-wave Plus Switches and the Smart Plug.
Comprising FANTEM Smart Switches with and without Metering Functions, FANTEM Smart dimmer and FANTEM Smart Plug.
FANTEM are leading manufacturer's of Z-wave Plus control devices and the only manufacturer that also includes NFC Inclusion in some it's products.
NFC Inclusion or otherwise known as Touch and Play enables non technical users to simply touch the device on a corresponding NFC Controlling Hub for Inclusion. It's a proven method which enables anyone to use Z-Wave Plus Products without any technical knowledge.
The further release of FANTEM will be a range of HEMS (Home Energy Monitors) in both 100A and 200A ratings in both Single Phase and 3 Phase versions towards the end of April.