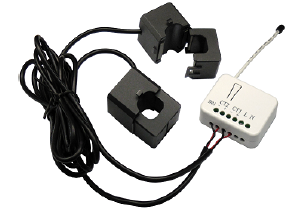 This dual meter module is a transceiver which is a Z-WaveTM enabled device and is fully compatible with any Z-WaveTM enabled network.

This product can be included and operated in any Z-Wave network with other Z-Wave certified devices from other manufacturers and/or other applications. It can act as repeaters within the network regardless of vendor to increase reliability of the network.
Mini size design allows the module can easily recessed into a electricity distribution box.

Outside/exterior location must not be located inside a metal cabinet.
For best Z-Wave communication a IP65 or higher Plastic enclosure is reccomended.

This dual meter module is able to detect Instant power wattage (13800W/230Vac)(60 Amperes) of connected light or appliances.
Note:This meter is directional. If the value of CT1 or CT2 is always 0, reverse the direction of the clamp sensor should get an appropriate value.

Currently not supported by Vera, give Homeseer a try and be rewarded by a smoothly operating Automation system without tears....
Philio Z-Wave Smart Energy Meter
Brand: Black Cat
Product Code: ZWBCHEM-AUS
Availability: Call for Availabilty & Price
Related Products
Tags: Philio, Z-Wave, Relay, Energy, Energy Metering