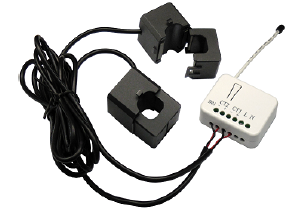 This dual meter module is a transceiver which is a Z-Wave Plus enabled device and is fully compatible with any Z-Wave enabled network.

This product can be included and operated in any Z-Wave network with other Z-Wave certified devices from other manufacturers and/or other applications. And it can act as repeaters within the network regardless of vendor to increase reliability of the network.
Mini size design allows the module can easily recessed into a electricity distribution box.

Outside/exterior location must not be located inside a metal cabinet.
For best Z-Wave communication a IP65 or higher Plastic enclosure is recomended.
T
his dual meter module is able to detect Instant power wattage (13800W/230Vac)(60 Amperes) of connected light or appliances.
Note:This meter is directional. If the value of CT1 or CT2 is always 0, reverse the direction of the clamp sensor should get an appropriate value.
Homeseer: All functions. kWh, amps,line voltage, watts

Vera: Limited Reporting - presently confined to KWH and Watts

For use with Vera add as a Generic Device.
Then use D_PowerMeter1 as the xml and json files, Go to Advanced, Params, and if they already do not have these values, change the category_num to 21 and subcategory_num to 0.
Black Cat Z-Wave Smart Energy Meter
Brand: Black Cat
Product Code: ZWBCSEM-AUS
Availability: In Stock
Related Products