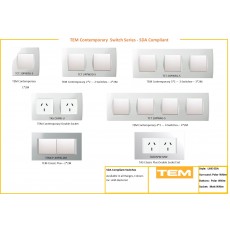 TEM Australia are proud to announce that the TEM 2M Contemporary Switch range is now SDA compliant under the Livable Housing Design Guidelines.
These guidelines provide useful information for consumers seeking to introduce livable design features into a new home or could be readily applied within an existing home during renovation or refurbishment.
The Guidelines describe livable design elements. Each element provides guidance on what performance is expected to achieve Silver, Gold or Platinum level accreditation.