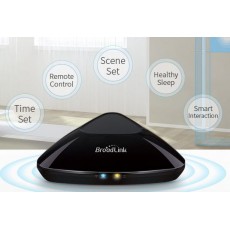 The Official Australian Edition of the Broadlink RMPro-2-AUS is
from Black Cat Control Systems, this IR device is probably the most popular IR Controller worldwide.
What makes the RMPro-2-AUS different is that also controls RF devices utilising 433.92mHz.
It's an outstanding device suited for HA use either in conjunction with Vera - HomeSeer or it can be used as
a stand alone controller that uses cloud services.
We have had a test unit running for the past 4 weeks and can verify it's ease of use, simplicity in setting up and inclusion with the most popular Home Automation Controllers.
As a standalone system it does not require independent software, whilst we have teamed it up with Vera UI7 in a controlled environmental test which extended over the past 10 day heat wave.
The results have been conclusively positive.
Users will NOT be disappointed.

The Black Cat Broadlink RMPro-2-AUS is the official Broadlink Australian IR/RF controller and comes with Australian Certification & Australian Approved Power Supply.
Full details and specifications are available from https://www.blackcatcontrolsystems.com.au/Broadlink-RMPro-AUS.