500 series Z-Wave Chip Static Controller. 
Libary version 3.92 (GEN5)
This is A PC adaptor that connects a PC to the Z-Wave network typically using the USB Interface.
The Z-Wave Static Controller  emulates a virtual serial device that is used by  Z-Wave control software running on the PC or any other embedded computer.
The control software in the PC itself defines the functionality and the user interface of the Z-Wave control while the Z-Wave PC adapter implements all low level functions to communicate within the system.
The PC adapter
plus appropriate software
typically act as central controller of the system.
Software is NOT Included.
Proven BackUp & Restore with Home Seer & Vera.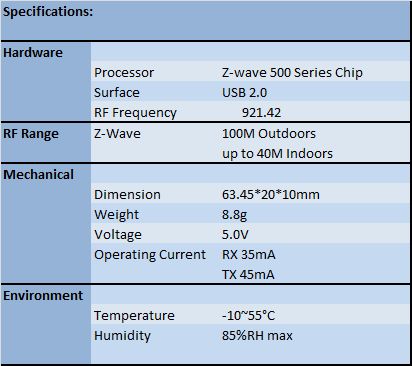 Technical
Range
Minimum: 40M Indoors. 100M Outdoors line of sight.
Warranty
Warranty
12 Months
Philio UZB Z-Wave Static controller
Brand: Black Cat
Product Code: ZWBCUZB-AUS
Availability: In Stock
AUD $ 69.95

AUD $ 59.95

---

5 or more AUD $ 66.45
10 or more AUD $ 62.96
Related Products
Tags: Philio UZB Z-Wave, static, Static Controller