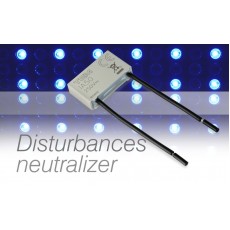 NEW
The TEM IA50 RC Bypass Module is a circuit designed to eliminate flickering and disturbances in the operation of LED and other Low Voltage lamps.
Perfect with low voltage lights.

Homes increasingly have LED lighting that are hard to dim. Use theTEM IA50RC Bypass Module in conjunction with Dimmable or Static lights, with or without Z-Wave Dimmers that are hard to dim.
With a parallel connection of a Indicator lamp with a switch (with indication) sometimes disturbances or flickering in the operation of Low Powered lamps may occur. This also means when LED lamps are turned off they can still remain turned on or flickering can occur.
The TEM SOLUTION
We do not offer auniversal solution for all types of LED lamps, but with the new TEM IA50 RC Bypass Module in most cases flickering and disturbances can be eliminated. The TEM IA50 RC Bypass Module requires parallel connection with the load, as illustrated in the scheme below:
Stop Dimmed Lights flickering.
Dimming energy-saving lights is complicated – there's a lot of different technology built into modern bulbs.
That's why dimmed lights sometimes flicker or remain on – power trickles through. The TEM IA50RC Disturbance Bypass Module circuit works with in conjunction with Z-Wave dimmers to remove the disturbance from your power line that causes low-watt light bulbs to flicker.
Tiny yet Powerful.
The IA50RC Disturbance Bypass Module installs invisibly near your light switch or light fitting taking up next to no space at all.

Low Cost.
Unlike other Bypass Modules available the TEM IA50RC Disturbance Bypass Module is moderately priced at

$16.95
Works with Black Cat LD1 Dimmers and all Z-Wave LED Dimmers,

The IA50RC Bypass Module works with the Black Cat LD1 Dimmer creating a complete Z-Wave solution for dimming lights.