RFXtrx433  Dual Band USB 433.92 & 433.42MHz Transceiver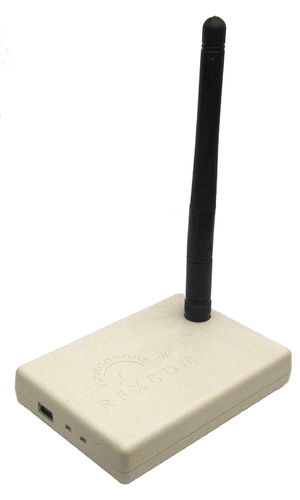 New 2023 version of the popular RFX433XL with WiFi

*New Chipset - New Firmware

 
Professional Systems quality
The set consists of:
- RFXwifi-RFX433, - USB cable,
- 5V DC 1A power supply.
 
Standard Wifi interface, Works with many Home Automation software packages, Easy implementation in any application, Flash memory for firmware updates.
Free firmware,

Supports all RFXtrx433XL protocols

Ultra low consumption,

Transmit and receive function,

433MHz

ASK / FSK,

Standard USB RFXtrx interface,

Works with many Home Automation systems,

Easy firmware update by flash memory
Supports the largest set of devices,
Supported by all major Home Automation systems Plug Ins available for Vera-HomeSeer, Fibaro via Domitics

Easy firmware updates in flash memory,

CSMA-CA technology to avoid RF collisions.

Latest FW supports Dooya motors.
Will receive these 433.92MHz sensors and remotes:
Cent-a-Meter,Electrisave,OWL power meters,

Alecto,Cresta,FineOffset,Hideki,Honeywell,LaCrosse,Meade,Oregon,Proove,Rubicson,TFA,Viking weather sensors,

Alecto,Avidsen,Chacon,NEXA,Flamingo,Blyss,Proove smoke detectors,

Atlantic,Chuango,Eminent,Meiantech,Visonic,X10 alarm sensors,

Oregon body weight scale,

Maverick,Rubicson BBQ sensors,

Chacon,HomeEasy,KlikAanKlikUit,NEXA,X10 remotes.
​And can be used to control for example these 433.92MHz devices:
ANSLUT, Avantek, BBSB, Blyss, Brennenstuhl, Chacon, COCO, Conrad RSL, DI.O, ELRO, Energenie, Eurodomest, Everflourish, FA500, Flamingo, HomeConfort, HomeEasy, Impuls, Intertechno, Intertek, Kambrook, KlikAanKlikUit, LightwaveRF, Livolo, Mercury, NEXA, OTIO, Phenix, PROmax, Proove, RisingSun, Sartano, Siemens, X10, XDOM dimmers/switches,

1byOne, Byron SX, KlikAanKlikUit, Profiles, SelectPlus chime,

A-OK, ASA, BOFU, Brel, Chamberlain, Confexx, Ematronic, ESMO, Hasta, Louvolite, Quotidom, RAEX, Rohrmotor24, Rollertrol, Simu, Somfy, Yooda blinds/awning motors,

Harrison, Forest curtain motors,

Kingpin,Media Mount,Proluxx projection screens,

Avidsen,Chacon,NEXA,Flamingo,Blyss,Proove smoke detectors with siren,

Lucci Air fan,

Mertik Maxitrol fire place,

Aoke relays,

MDREMOTE LED strip controllers,

Smartwares radiator valve.
And can be used to control up to 40 Somfy RTS devices and Funkbus at 433.42MHz
See chapter 2 in the RFXtrx User Guide for the full list of supported sensors and devices.

 
RFXwifi with RFX433
Brand: RFXCOM
Product Code: RFXwifi with RFX433
Availability: In Stock
Related Products
Tags: RF433, RFXCOM, RF, Somfy, Dooya, RFXCOMXL, RFXtrx433XL, RFXusb with RFX433, RFXwifi with RFX433