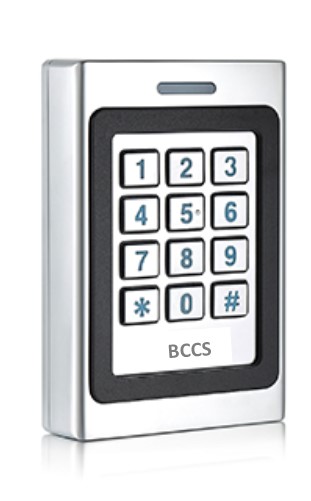 This stand alone Key Pad also incorporates a 125mHz EM Card Reader and can Control a Z-Wave Relay(not included).
The BCCS Keypad is a contactless EM proximity card standalone access control. It adopts zinc-alloy case, anti-vandal and anti-explosion, 2,000 user capacity and supporting access by card, card + PIN, card or PIN. It can be installed on 86x86mm mount box.
Main Features:
One relay operation
Pulse mode, Toggle mode
Pin length: 4-8 digits
Card type: 125KHZ EM card
Block enrolment, can enrol 2000 consecutive cards within 10 seconds
Waterproof, conforms to IP67
Strong Zinc Alloy Electroplated anti-vandal case
2000 uses, supports Card, PIN, Card + PIN
Backlight keypad
10 - 24V DC
Operating temp: -40°C - +70°C
Easy installation, can install on 86*86 box.
Access Control
Access Control - RFID
125kHz RFID Car & FOB
SAAS Keypad Stand-alone Access Control 125kHz EM Card Reader
Brand: SAAS
Product Code: SAAS-WMK1-EM
Availability: Delivery 10-14 days-Call
Related Products
Tags: Key Pad, Card Reader, Fob Reader, Access Control, 125kHZ EM Card Reader