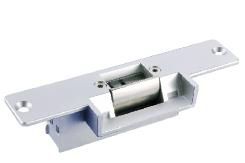 An electric strike is an access control device used for doors.
It replaces the fixed strike faceplate often used with a latch bar (also known as a keeper).
Like a fixed strike, it normally presents a ramped surface to the locking latch allowing the door to close and latch just like a fixed strike would.
Available in NO or NC

Usually used for standard swinging doors with a latch on the door.  

Easily adopted into a Automation System using Z-Wave or KNX technologly.
SAAS Electric Door Strike
Brand: SAAS
Product Code: SAAS ES10-NO/NC
Availability: In Stock
Related Products
Tags: Access Control, Door Strike