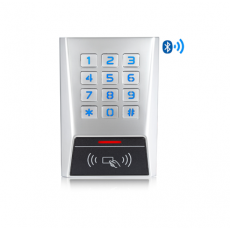 Introducing Stand Alone Access Systems.
Stand Alone Access Systems is a complete Access Systems Solution ranging from the smallest practical RFID System to more complex Time Management-Attendance Systems. All can be be Stand Alone which apart from external power (usually 12-24vDC) require no additional components.
Access can be by Card or Fob, in 125kHz or 13.56 mHz. HID is also provided for.
Other solutions include Bluetooth Access from your Mobile Phone or Biometric.
Stand Alone Systems can be expanded into larger systems using either Wiegand or TCP/IP.
System design is simple and easy, no need for complicated software . Th Stand Alone range includes Door Strikes, Magnetic Locks, Door Switches, Cards and Fobs.
Outputs from Stand Alone Access Systems can be used to trigger Smart Home Systems.